Welcome to the Zircon Corporation.
Zircon offers a variety of products designed to allow glass dealers to manufacture their own laminated glass quickly, easily and inexpensively through a revolutionary new cold cure process.
Use the Zircon cold cure process in your own shop to create safety glass, solar glass, security glass, sound-deadening glass, decorative glass and more. The Zircon lamination process can even be used to laminate curved glass and to laminate non-glass materials such as plastic sheets, wood, and metal substrates to glass. You can see some examples on the site.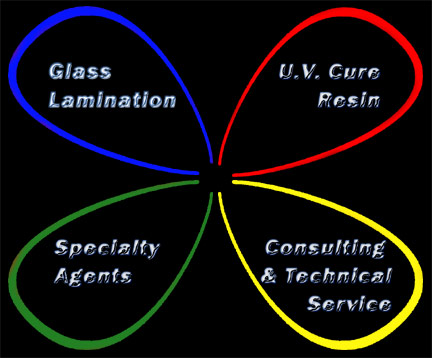 Zircon Corporation
322 Moore Lane
Collierville, TN 38017
(800) 343-0964
(901) 850-0561
fax (901) 850-0563
info@zirconcorp.com
© 2005 Zircon Corp.
The Zircon cold cure process has undergone extensive testing and has been proven cost-effective and easy to use. Please browse our site to find more information about this exciting process. For more information, please contact us.